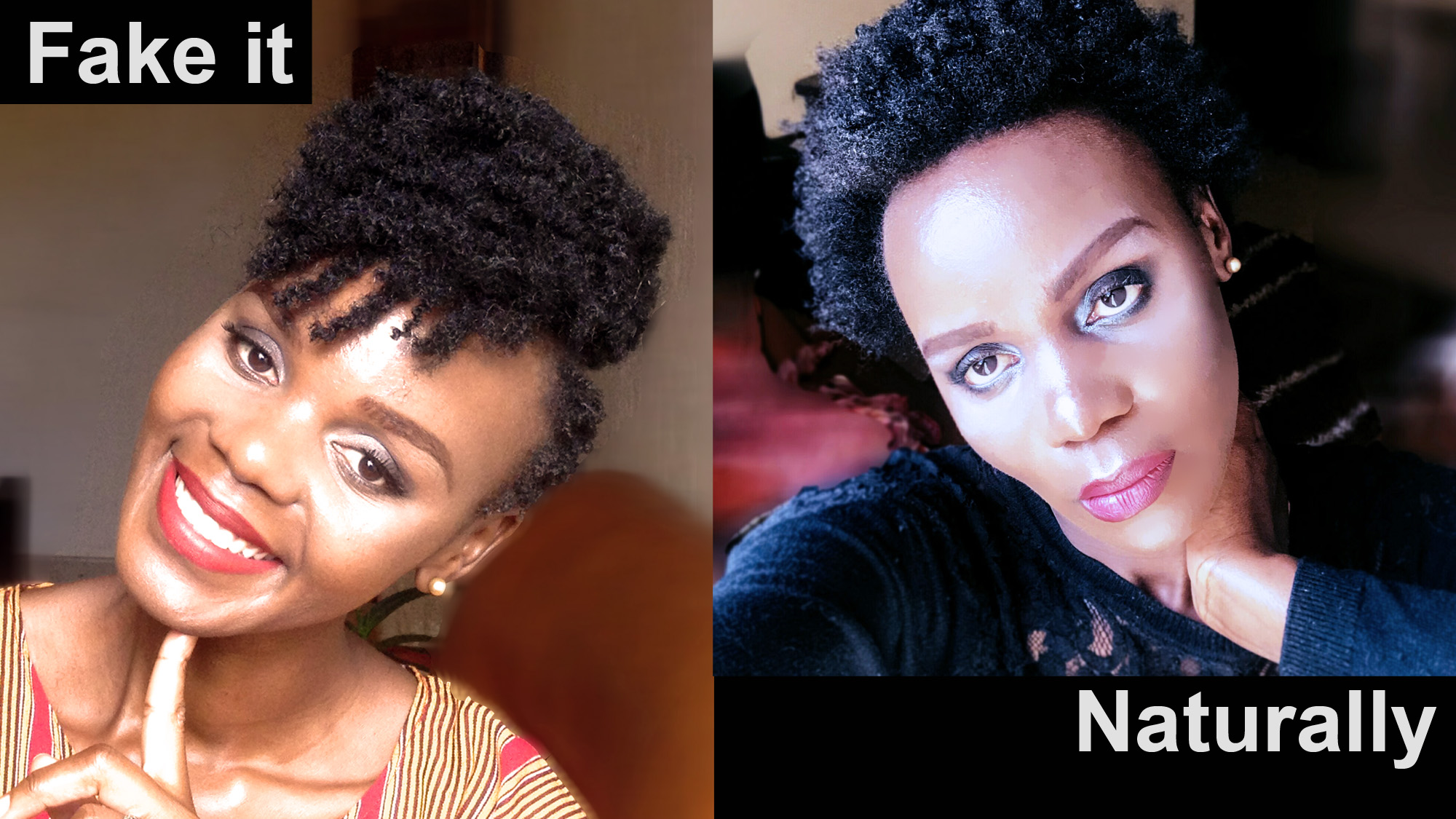 Everyone takes pride in thick bountiful strands including me of course. But first what causes thin hair? Thinning hair could be caused by:
genetics
natural aging
poor nutrition
overuse of commercial or chemical hair products.
illness
General manipulation of hair
When we use chemicals such as hair dye or heat appliances such as hair straighteners, general manipulation of our hair (Washing, styling,) the weather, and pollutants can damage the integral structure of the hair strand which causes you to lose some of the fibrous proteins that make up your hair's cortex, making your hair thin, fragile and prone to breakage. This causes protein to be stripped away and thus we need to add protein back into our hair to rebuild the strength of each hair follicle.
While there is no clear research on ways to change the texture of hair follicles, there are several affordable factors that can help us get our hair appearing thicker (Fat healthy strands) and even avoid unnecessary damage. Below are 5 tips and tricks that others and I have used to get there.
Tip 1.
Wash hair less
Curly and kinky hair tends to be dry because of the curly or coil pattern which makes it difficult for the natural oil to coat the strands easily. So washing your hair so often will strip hair of its natural oils leaving hair dry and prone to breakage. Wash hair less (no more than once a week according to the American Academy of Dermatology) often to preserve the natural oils in the scalp to keep hair well moisturized enabling it to look fuller and healthier.
Co-washing (with cleansing conditioners without detergents) once every week and shampooing once a month might just be the secret here especially for wavy, curly, kinky, dry hair. You may have to shampoo hair every week only if you apply a lot of products into your for example, for your wash and go to succeed (for your curls to be defined) you have to clarify hair (your hair has to be super clean for products to penetrate more effectively).
Tip 2.
Use the right products for your hair type in your regimen
Use leave-in conditioners that will deeply moisturize and protect your hair from brittleness and breakage. This may be a butter mixture, mousses, serums, gels, or sprays depending on the porosity of hair. For example High porosity hair generally absorbs too much moisture and loses the moisture quickly leaving hair so dry (matte). So using heavyweight products such as butter or creams with (thicker consistency) work great for high porosity hair since they moisturize and coat hair to seal in moisture, making it feel and look thicker with grip. There are a variety of options in formulas, ingredients, weights.
Depending on your hair pattern (wavy, curly, coils, kinky), the hair's ability to absorb and retain moisture and oils is very important because taking that into consideration will help hair look healthier, lustrous/bouncy and easier to style hence minimizing thinning.
Tip 3.
Mask or treat hair with proteins
Protein treatments attach hydrolyzed proteins to the hair cuticle, which then hardens it and prevents further damage hence restoring overall hair structure. Our hair is a type of protein, it is basically a couple of layers of intertwined keratin that grows from hair follicles. protein can be used to repair damage that comes from general manipulation of our hair. Protein that is small enough to penetrate the hair strand, known as hydrolyzed protein fill in the cracks along damaged areas in the hair shaft improving strength, while increasing elasticity and volume.
Tip 4.
Hot Oil Treatment
Tip 5.
Home protein recipe treatment. Do they work?
Some one with this experience said, egg treatments may make hair appear thick and soft but the results wear off within days! It simply coats strands. She added, that hair will be fortified and strengthened for a much longer period of time when you use products containing hydrolyzed keratin protein. Do you agree with her?
Lets go ahead anyway … you choose for yourself.
This hair mask (Home protein recipe treatment) is a popular recipe in homemade hair masks today. It helps to condition, soften, encourage thick strong hair and specifically good for promoting growth, sleek and shine. Would you like to know how to create this mask right in the comfort of your home? Follow along with me but before that, let's know the benefits of each item that we are going to incorporate.
Bananas
Among other benefits, the silica content in the bananas helps with frizzy and unhealthy hair since it is absorbed to produce collagen, the protein that is a building block of bouncy and healthy hair. This content helps you achieve soft, voluminous shiny hair. Many biotins are supplemented with silica and various minerals to not only promote growth but to also encourage thickening.
Eggs
One of the key elements of egg yolks is the protein. Hair is made of a tough protein called keratin. So when your hair feels dry, brittle, and damaged, the only way to restore it's health is to give it what it has lost, proteins. This will help damaged parts of your hair get healthier and stronger, improving its texture.
According to Medical News Today, a specific fat called lecithin that is in eggs could help moisturize hair. No wonder it is part of the ingredients in some cosmetic hair conditioners and masks. So it will help improve the general appearance and structure of your hair.
Eggs are also a rich source of biotin. According to damagolists, getting adequate amounts of biotin (B-complex vitamin) helps to grow and thicken hair.
Avocado
Rich in good fat and oils that make it extremely moisturizing and nourishing. Avocado helps hydrate & repair dry, brittle, or damaged hair.
Avocado is also great source of biotin, which is a remedy to help hair grow longer and thicker.
Olive oil 
Olive oil is also extremely hydrating, and it helps protect your hair from damage. A 2015 study showed that olive oil has a vital part in protecting hair from damage and reducing scalp build up. Omega-3 fatty acids and antioxidants in olive oil have been proven to help split ends, strengthen hair, minimize dullness and prevent breakage.
Black seed oil
Black oil is highly concentrated qualifying it to be an adjuvant, like lavender, citrus, and rosemary essential oils. This simply means that it works well when diluted with other ingredients to modify/enhance their effects. It may help in regrowing certain thinning areas on scalp. Apart from it's medicinal properties that kill viruses and fungal infections, It helps soothe scalp conditions that cause inflammation, flakiness, and sensitivity. It will also complete your mask with refreshing scent.
How to benefit from this mask
To benefit from this mask, let it sink deep to hydrate your hair. This is possible with the use of heat. After applying the mask to damp hair, wrap it up into a bun and then cover your hair with a shower cap or satin cloth, apply heat—either with a blow dryer for about 15 minutes or, my favourite, leaving it overnight! Rinse and wash with clarifying shampoo until clean. This is the only moment I use a clarifying shampoo, twice a month, whenever am going to mask my hair. Find out why. Use a microfiber towel, or a t-shirt to dry your hair. These are softer and absorb the right amount of moisture from hair, minimizing frizz caused by regular towels.
Ingredients:
1 or 2 ripe bananas or more, depending on how long your hair is
Half avocado slice or whole depending on the length of your hair
Whole egg (1)
Olive oil (1 table spoon)
Essential oil (I use 1/2 tea spoon of black seed oil)
Instructions
Blend all ingredients in a food processor, a stand mixer or use a folk, depending on what you can afford. Mix until the mixture is frothy or has an a smooth consistency.
Spread the mask onto clean damp hair, reaching the scalp too as you rub gently. If you have long hair rap it into a bun on top of your head, and cover with a shower cap or a satin cloth. Heat your hair by blow-drying for about 15 minutes, or leave the mask overnight. Use lukewarm water to rinse thoroughly. Repeat the hair treatment once or twice a month.
Note:
This thick hair mask is great for those who have curly, kinky or thick hair, whose hair is really thirsty. You may do it every couple of weeks.
Have fun with your mask!
If you are allergic to bananas (Banana allergies), also called latex-fruit allergy, simply avoid any use of it's application and opt for another mask.
Tip 6.
Protect your hair when using hot tools
Use thick oils like coconut oils or shea butter to coat hair and protect it from heat damage (heat damage from blow dryers and flat irons) when straightening. This will help to minimize split ends and therefore avoid thinning of strands. It would also be important to reduce the amount of heat and the number of times we straighten our hair.
Tip 7.
Go for hairstyles that give you a more fluffier look
Teasing your hair doesn't have to turn you into a full rockstar. Go for hairstyles that give you a more fluffier look (curl and weaves) in your own hair. These may include perm rod set, flexi rod set, straw set, chunky hairstyles, etc. Such hairstyles will give the hair a more voluminous, modern finish. You can use a wide-tooth comb or lifter to even tease the roots all over, giving the appearance of more bouncy big hair.
Tip 8.
Trim split ends
Usually the hair at the tip is much older and therefore weakest. Using hot tools, coloring, over manipulation of hair, hush weather conditions and chemical products, etc. can further increase damage resulting into split ends. If we wait longer, the splits may progress all the way up to the shaft causing thin hair. So whether we want it or not, somehow all of us will have to get rid of split ends atleast every 8-10 weeks to encourage thickness, maintain shape and minimize further damage.
Tip 9.
Fake It!
You can fake it by adding clip-ins or any hair extensions. Watch this short video below to give you a clear clue.
Note
It is important to note that the results of the above mentioned natural methods may vary depending on each person.
Natural home remedies are low cost and low risk but if you experience an unexplained hair loss, then it's advisable you talk to your doctor as there may be medical reasons for the thinning.
Otherwise I wish you well with your hair thickening Journey.