Want to get luxurious curls on your natural hair? There are several products you'll want to try out, including sulfate-free shampoos, masks, conditioners, moisturizers and several defining creams, gels, and mousses. With the right combination of products, you'll be able to create the perfect curly hair routine and flaunt those luscious locks!
It's important to choose a product that is specifically meant for your hair type to achieve the best results. Below are cruelty-free top-ranked curling products for type 4 hair that have overwhelmingly positive reviews and have stood over time.
The Doux BIG POPPA DEFINING GEL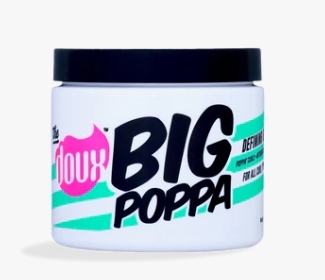 Is a premium line of hair care products specifically formulated for type 4 natural hair. Their products are designed to deliver moisture, combat frizz and enhance curls. It is a lightweight non sticky gel formula, enriched with natural ingredients, including aloe vera, honey, and marshmallow root, to hydrate and nourish hair while defining the curls. People with curly or wavy hair can still use the product to define and enhance their natural curls, reduce frizz, and add definition to their hair style. You may add the cream or mouse first, then the gel to maximize volume.
What users say
| | | |
| --- | --- | --- |
| Name | Good | Bad |
| Cabreia | As soon as I put it on my hair, it did what it needed to do. My curls have never looked so defined with just one product. The best part is that my hair is still so soft after applying it. | |
| Emilee | THIS IS IT!!! This stuff changed my life. After searching for the last three years for the perfect gel after going natural, I finally found it! No flakes, curls defined and SHINY for days, I'm obsessed! I can go a whole week off one wash after putting just this gel in and honestly, what more could a girl ask for?!?! | |
| Phreshgleaux | My curls can last for at least two weeks and I don't need any more products through the week. My curls aren't crunchy, they stay juicy and if need be I can simply reset with a spritz of water. | |
What users say on camera
The Doux C.R.E.A.M. Twist & Curl Cream
Great for twist out! defining them while reducing shrinkage. Ultra moisturizing formula helps with length retention by restoring moisture balance, increasing elasticity, and preventing breakage.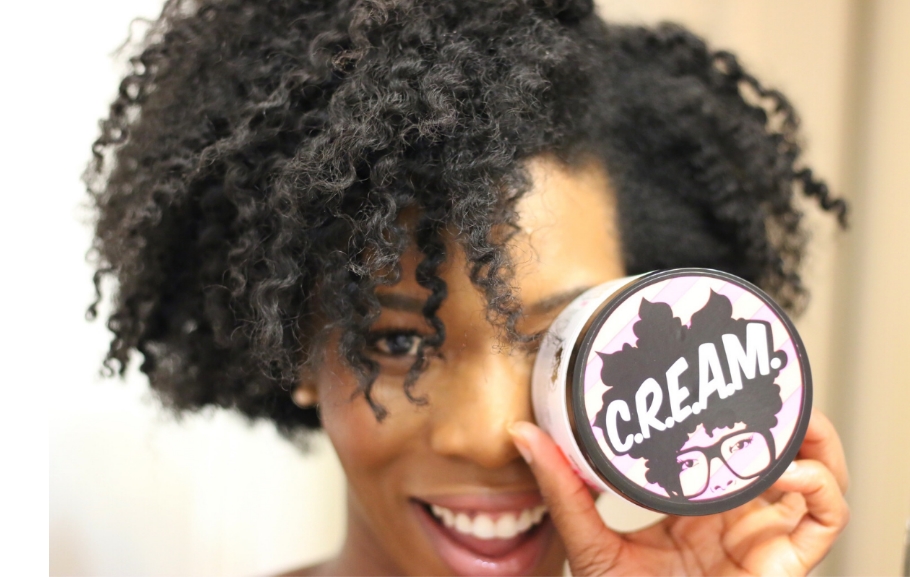 You like it?
The Doux MOUSSE DEF TEXTURE FOAM
Is a lightweight styling solution designed to easily and effectively shape and define your locks and, provide volume and hold to hair. This incredible mousse is enriched with Argan oil and natural proteins, helps to create natural-looking waves and curls without leaving behind any residue or stickiness. Most people love using it along with the The Doux BIG POPPA DEFINING GEL to get maximum definition
What users say
| | | |
| --- | --- | --- |
| Name | Good | Bad |
| Intisar | I am so proud and elated to find this product. The definition, hold, and shine this product creates beats them all. I have 4c hair and nothing brings out my curls like this. The kicker? It's black and veteran owned! | |
| Chris | It really is a one-and-done MIRACLE. They made magic with this product. I distribute 2-3 pumps thoroughly throughout my entire hair while its damp, then apply more to finger coil, focusing on the crown of my head where my curls are the tightest and most prone to friz… | |
| Destini | I just ordered my third bottle! I can use this one product as my leave in AND as a styler…that is why I love it! Saves me time and energy. I mainly use it to style my wash and gos. It gives me a nice hold that is still soft to touch. I've never used anything like it. | |
What they say on camera
You like it?
Uncle Funky's Daughter Curly Magic Curling Potion
Great for both curly and kinky hair. It provides definition and hold to curls while also nourishing the hair with natural ingredients like mango seed oil and sweet almond oil. Provides a medium hold and is suitable for all curl types, including type 4 hair. The product is designed to enhance and define curls, control frizz, and provide hydration to the hair, leaving it soft and bouncy.
What users say
| | | |
| --- | --- | --- |
| Name | Good | Bad |
| By J.G. Posted on 7/22/21 | My hairstylist used this on my teenie weenie afro (TWA). WOW!! What a wonderful product! It kept my hair looking and feeling great for over a week! My curls were locked in!!! I'll never be without Extra Butter and Curly Magic! MY HAIR LOVES YOUR PRODUCTS! | |
| By AmparoNC Posted on 3/3/22 | My low porosity hair loves this gel, it sets my curls for days and keeps them hydrated! | |
| By Victoria Posted on 12/15/21 | I wanted something that didn't contain heavy butters and found this. This has worked great! I used quite a bit of product and my hair isn't crunchy or flaky. My curls have hold and have lasted 3 days without the need to refresh. | |
What Users say on camera
You like it?