How to Cornrow Your Natural Hair Yourself – Straight Back Cornrows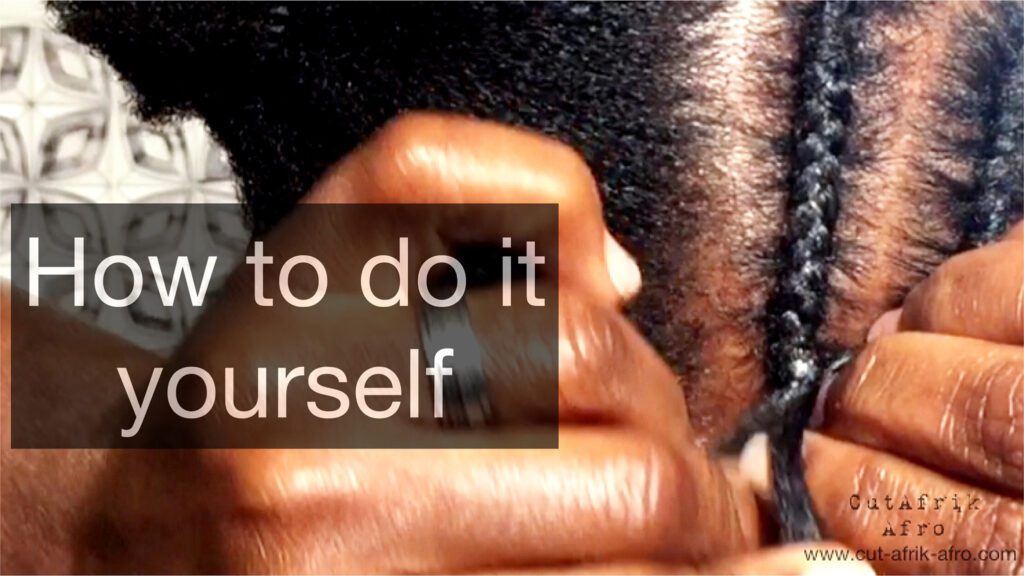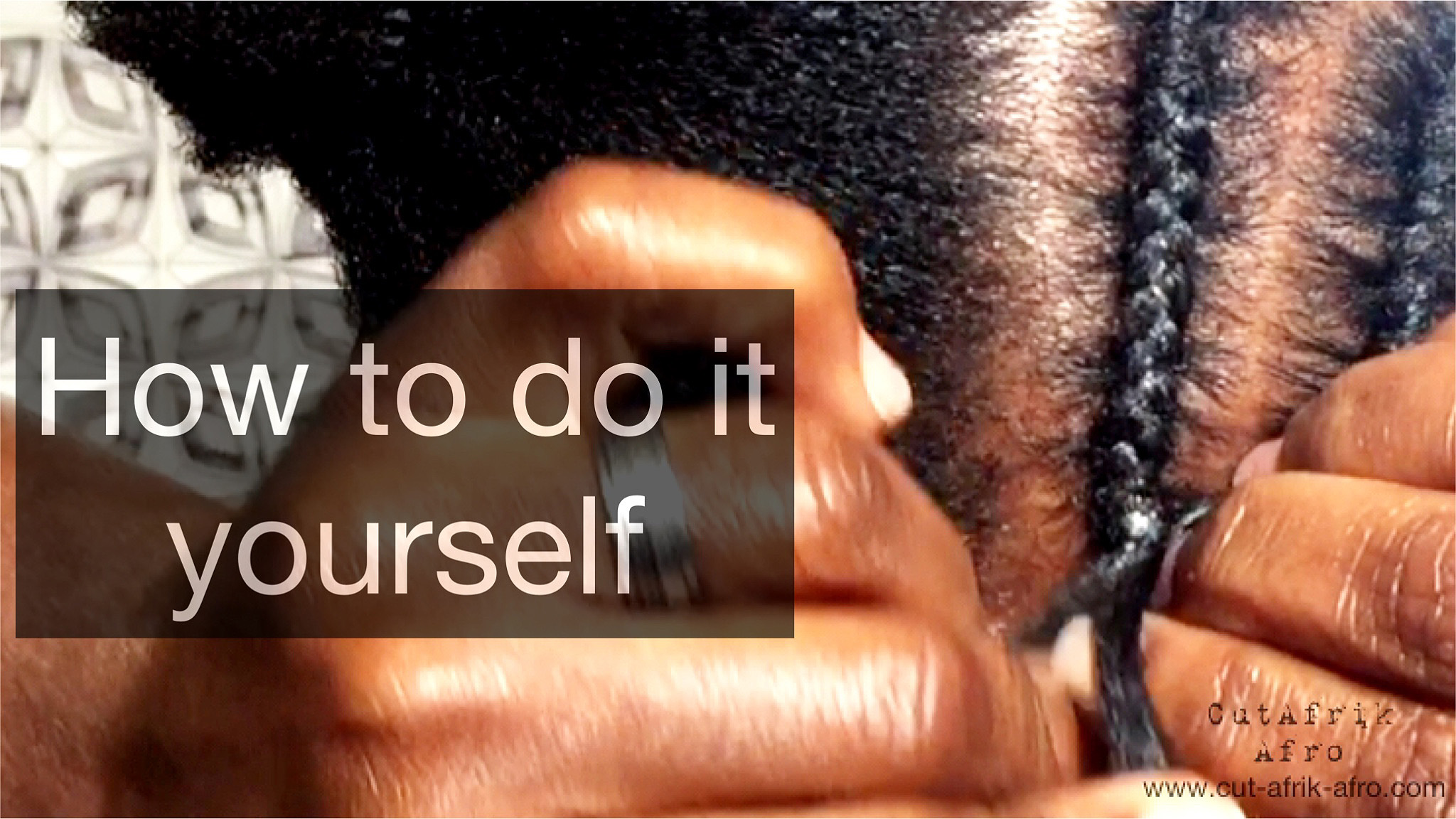 Cornrows are a practical way to wear, protect and add style to your natural hair. We are going to discuss 7 basic principles that will guide you achieve this hairstyle in the best way possible every time. Not forgetting some challenges that come along when learning how to braid and of course how to overcome them.
Moisturize and Detangle Hair
Detangling makes hair easier to work with. You may put hair in twists the night before so that it is stretched the following day or, blow dry. Detangling will make installing braids easier hence minimizing breakage when manipulating.
Get Yourself at least 2 wide mirrors
2 or 3 big mirrors placed strategically will help you see all sides of your head so you can section and braid accurately.
Part Hair in Sections
This is one of the biggest challenges we get when learning to braid. Good parting generally helps your braids look neater so some how we can't escape from this. To make it easier try to understand your head shape. For example, every one's hairline has got bends and curves. Use these bends and curves as reference points for parting.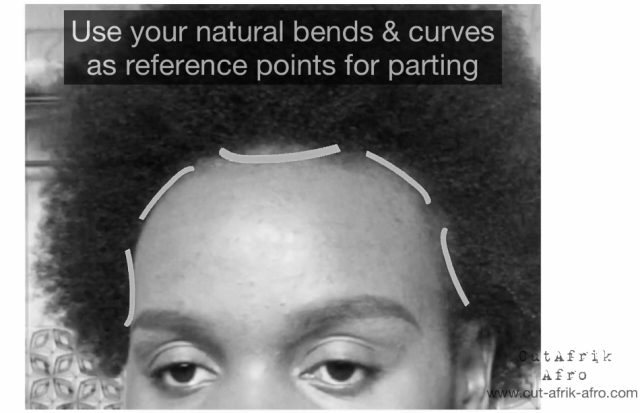 Start with middle parting. I find it easier to use my nose as a guide for middle parting. Middle parting makes it easier to proceed with other smaller sections equally.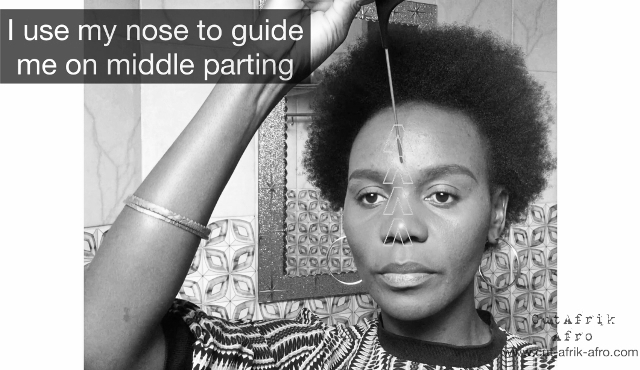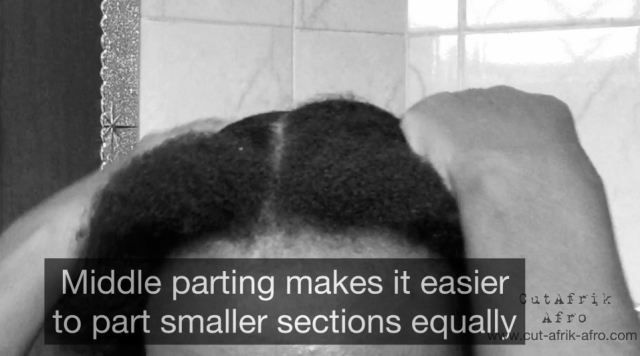 Your nape has less hair surface area than the top of your head. It starts bigger at the hairline and gets thinner at the bottom.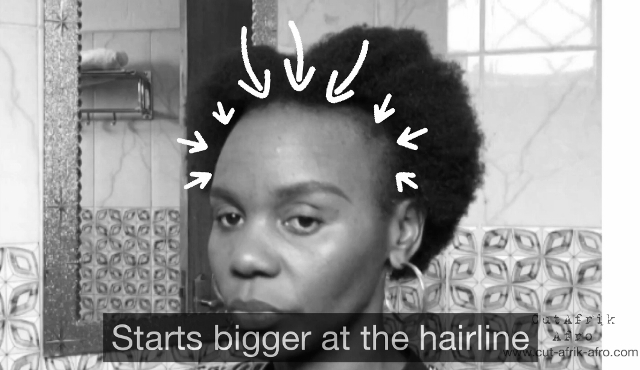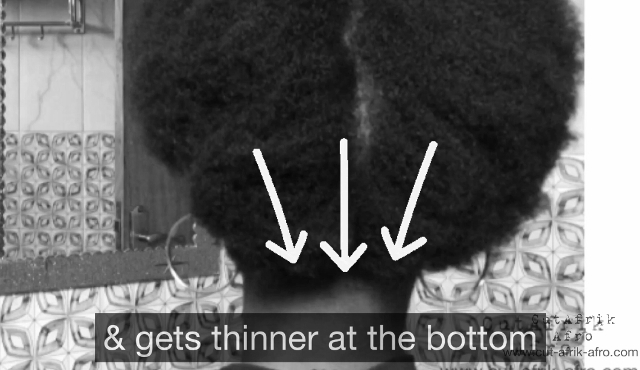 Using the tail end of a rattail comb, make clear size section you are going for. With a straight line, start bigger at the hair line up to the highest point of your head then slant down your head.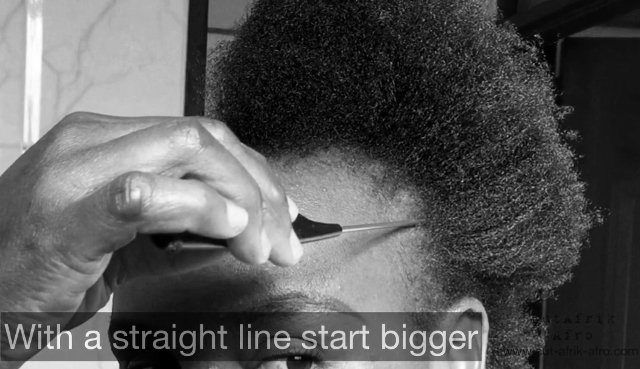 On the first section right next to your ear, start cleaning your line as you make an imaginary letter C so that it's not a straight line but half round. This letter will allow enough room for the other sections on the back or nape area. Otherwise you may find yourself stopping in the middle with some braids.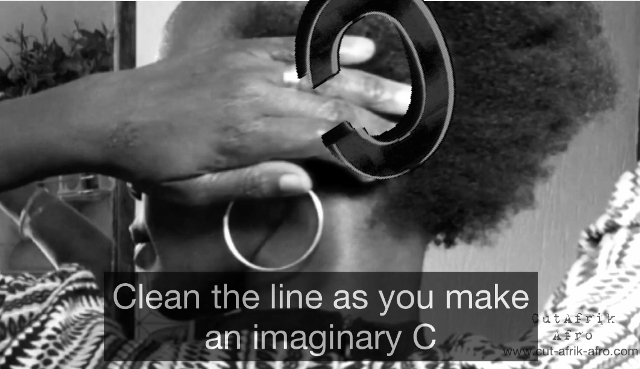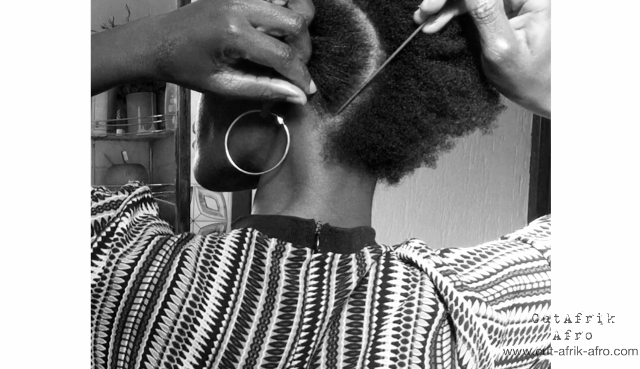 Use a wax or Edge Control
Add a bit of edge control along your hairline or the section you are about to braid as this will help you grip the hair easier, tame flyaways, give you a sleek look keeping your cornrows neat. After applying remember to comb your product through on each side. Applying edge control is optional.
How to Cornrow
On the section you are about to braid, pick a small section of hair to start with and separate into three smaller sections. 1 hand holding 1 strand of hair, while the other hand holds 2 separated sections of hair. Starting with either the left or right section in your fingers, move it below the center section, replacing the center with it. Then move the section on the opposite side so that it is in the center, and switch the current center piece with that side.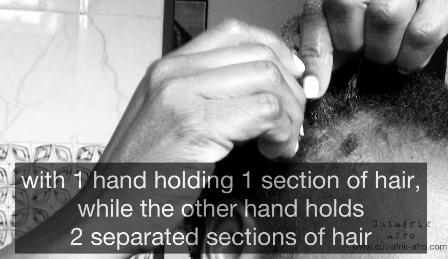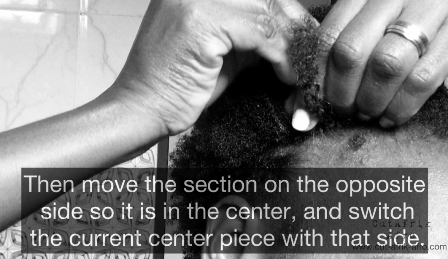 After that one stich, pinch a tiny piece of hair on your right or left depending on where you started from and add it to the center piece of hair (in between your thumb and index finger) and keep braiding. Pinch another piece of hair on the other side as you continue braiding. Just follow the same technique and it will become easier. You will find yourself simply pinching or picking hair with your thumb and index finger without necessarily adding it with the other hand. Remember to keep detangling hair every time you see or feel tangles as you braid.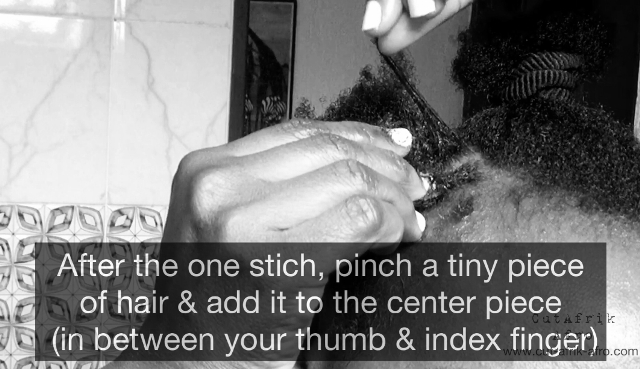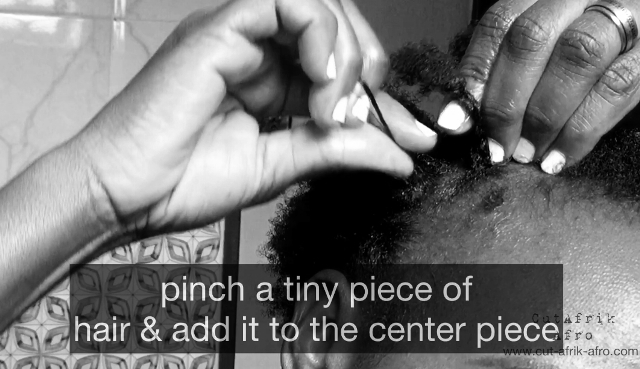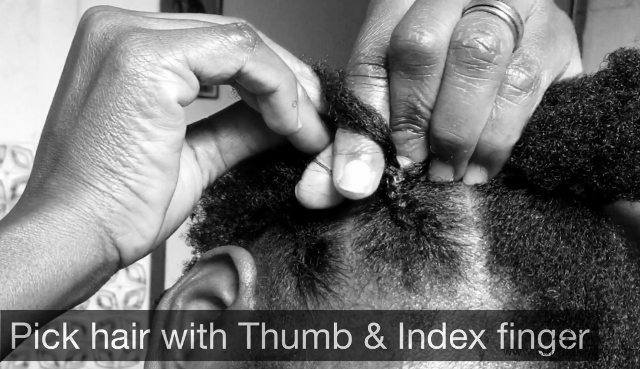 Body and Hand Posture
Whenever you come around the different bends of the head slightly change the position of your hand and body so that you direct the braid where you naturally want it to go.
Gripping
We usually can't grasp everything at once. Typically when learning how to cornrow we may marry one or two techniques that we might do well and fail with others. For example, we may be excited about braiding and braiding and forget about how much hair to pick up when doing a cornrow or failing to stick to the scalp constantly. You do not want your fingers to be travelling to far when doing your cornrows. Keep them close together when picking up small amounts of hair. Stay as close by as you can. Keeping your fingers close to your scalp literally touching your scalp the entire time. Paying attention to this will help you have a good grip.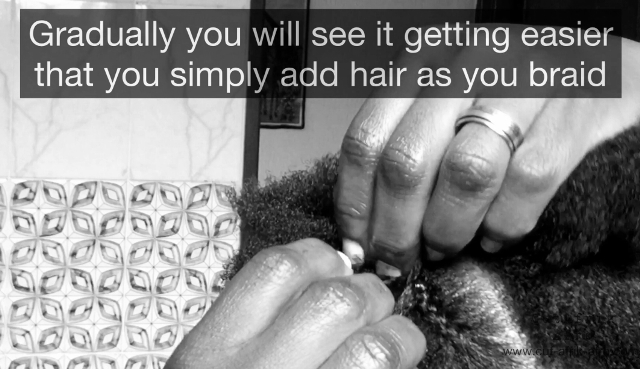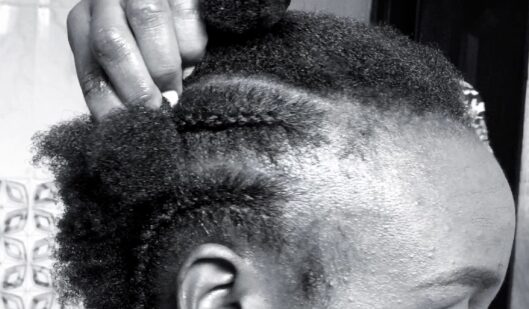 Remember, practice makes perfect. You don't have to learn every thing at once. You may learn one today and the other another time. Be patient and consistent.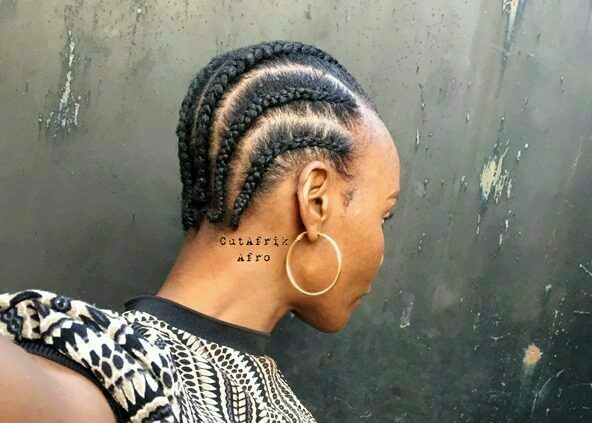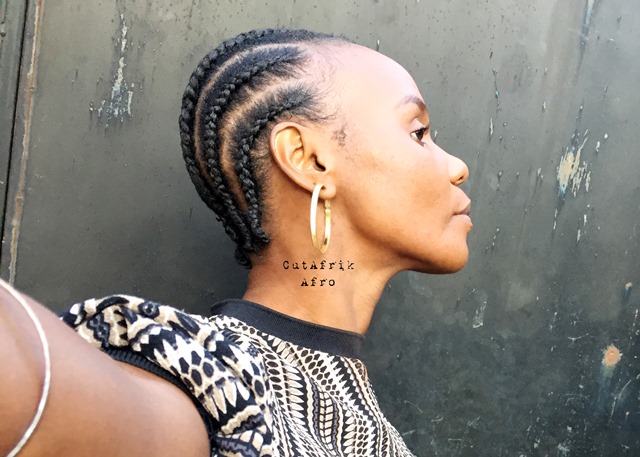 The video below demonstrates briefly how you could do cornrows yourself on your natural hair. I will be happy if you left a comment below. It could be in a form of an addition to this or a question. Thank you for your time.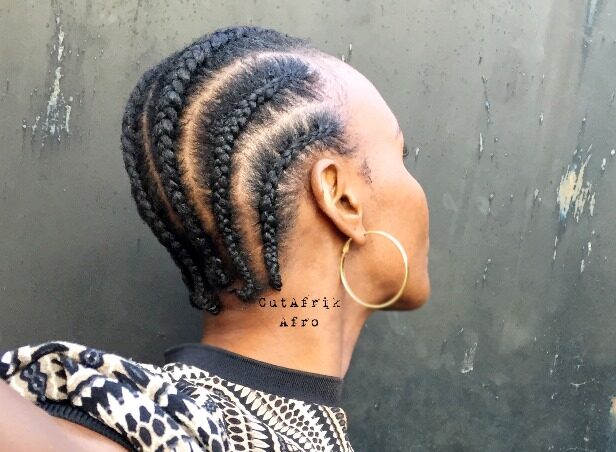 About CutAfrik
Passionate about short hair? This is a platform for short hairstyle ideas and lifestyle. Learn the basics of short hairstyles from the comfort of your home! Get Inspired. Find your next hairstyle. Check options. Enrich your skills. It's diversified from natural short hairstyles, to braid, weave, wig short hairstyles and more. Not forgetting updos on short hair. Looking for the latest trends in hairstyles to spice up your look? Here is the place, feel free to browse around.
Easy Way To a Short Passion Twist – Bob
Thank You
Thank you for using the affiliate links and codes in this post, it helps me with a small compensation so I can provide more content.
How To Taper Cut Afro Hair
Try a Blunt Bob This Season – Thicken Hair in Minutes👌
How to Use a Sponge for TWA
Master the Art of Flat Twist Out Hairstyles – Visual
Face Slimming Bangs For Round Face Shapes
Flexi Rod Set Short Natural Hair Tutorial!